Filed under: General - Mark @ 10:42 am
Mina from work reckons that my car would look better without its rear badges. I admit his Audi A4 looks better without it, but Im not sure about mine: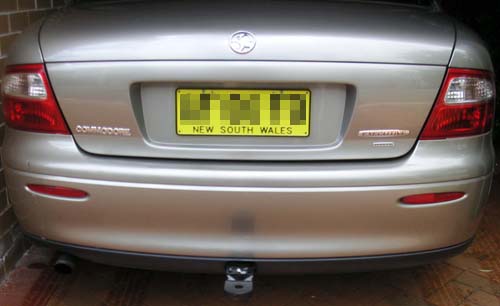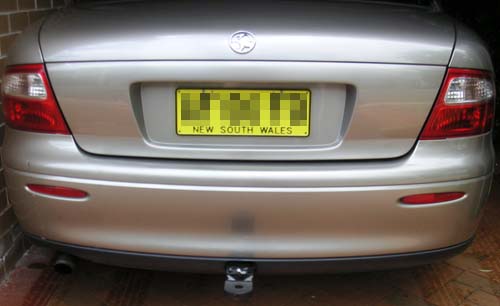 P.S. I photoshopped that, I didn't actually take the badges off 😛 I just wanted to see what it would look like
Filed under: General - Mark @ 2:26 pm
I'm officially a cop magnet! 18″ Verde Kaos wrapped in Kuhmo performance tyres (btw I didn't pay the price on that page – nowhere near it):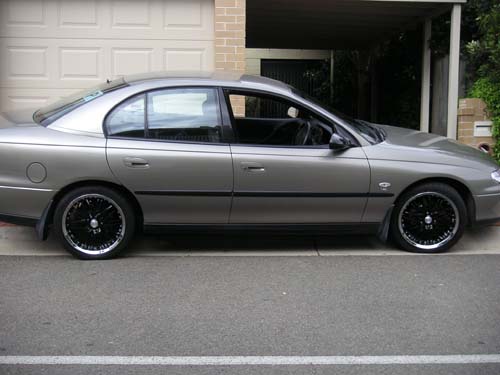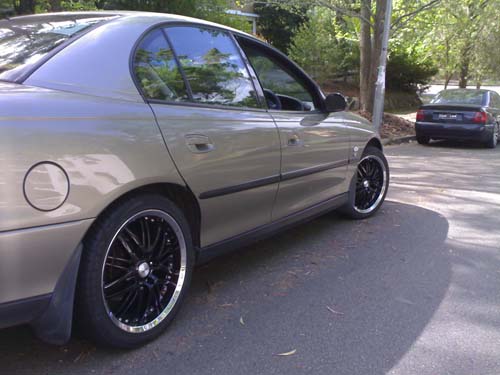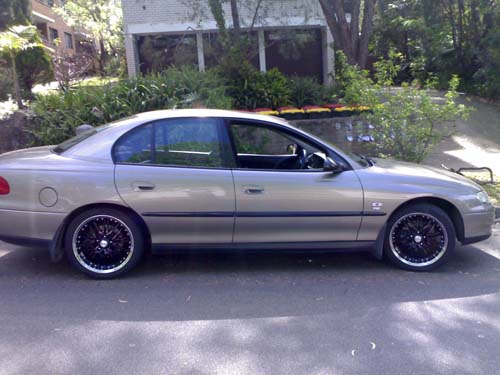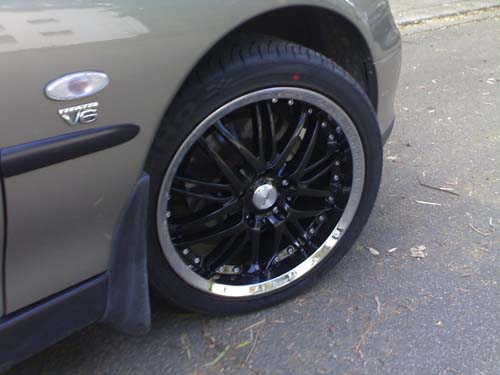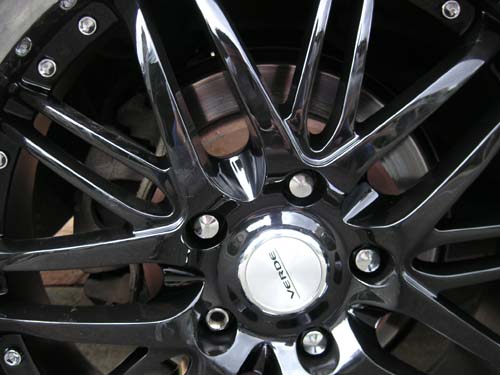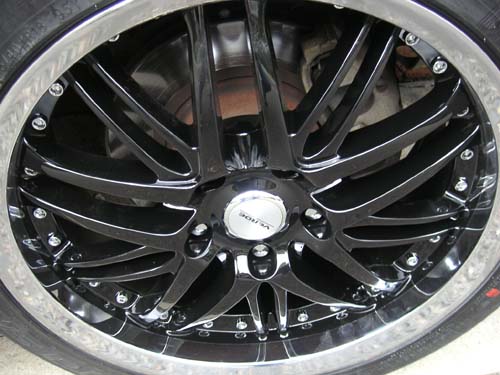 It's about time 😀 I'm going to have to paint the drums black (cos they're quite rusted) and the brake calipers a bright red 😀
Update:
I've photohopped the red capliers on there. It's gunna look HOT!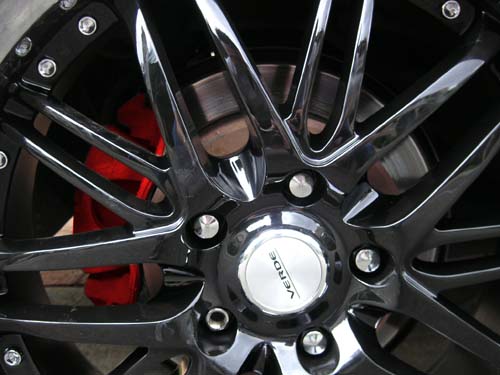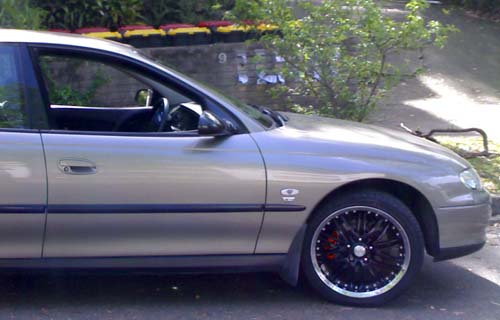 Filed under: General - Mark @ 3:46 pm
Well I had my 21st birthday celebrations last night. It wasnt actually my 21st but we celebrated it anyway because (as ususal) everyone is going to be away on my actual birthday. Note to potential parents: Do not have your children in the first week of October, it will just cause too many problems.
Anyway, my cousin and uncle and auntie from Queensland came down and my Sister came up from Melbourne. We went to a restaurant at Newington and caused them a nightmare (they were very very busy), came back and had cake, yumm. Thats really about it. I don't like big deals.
In a few weeks we're going to the city for a bit of a pub crawl with my mates from Uni, as well as two friends from Melbourne. That should definately be a memorable experience 😉
Filed under: General - Mark @ 10:33 am
Well my car no longer sounds like a sick donkey when you start it up. It turns out the nasty noise it has been producing the last 12 months was caused by the starter motor wearing out. $330 to have it replaced, on top of a $170 service/tune/handbrake fix last week makes a total of $500. Still, I've spent less than a thousand dollars in total on the car (excluding insurance excess's) since I got it (Almost 18 months ago) which is a hell of a lot better than my old car! And apart from regular servicing from hereon there's no forseeable expenses (except for new wheels :D)
Filed under: General - Mark @ 10:59 am
Well, after 3 years my laptop is finally starting to give up the ghost. The screen now cannot display the colour blue very well. Its nice and good at the top of the screen but by the time it gets to the bottom it's quite faint and almost white. And it's been bruised since the day I bought it, which Toshiba wouldn't warranty for a myraid of reasons.
So I might have to start saving for a new computer methinks 🙁 I'm definately going to wait for Vista to ship though so I can get that bundled, hopefully on a Tablet PC 😀
Ok, Vista x64 is now finally 100% usable. I still admit its not as refined as the 32-bit but I don't care. I used it yesterday with 1.5gb of ram in use and not a single slowdown or jolt and it has not crashed since I started with it, and it's been up for 48 hours now.
For all those people wanting to know how to mount ISO Images in Vista x64:
1) Reboot the machine
2) When the OS selection menu pops up, press F8 (or press F8 just before the splash screen comes up if Vista is your sole OS)
3) Choose "Disable forced driver signing"
4) Install Magicware, from http://www.magiciso.com/tutorials/miso-magicdisc-overview.htm (Daemon tools and VirtualCloneDrive are both blocked by Vista's kernel protection).
5) Click "Install Anyway" on the big red window that appears
6) Ignore the message saying that the driver is being rejected (just click OK to it)
And you should be all good!! I followed the same prodecure for my sound card and now it's all sweet 😀
Well, I know it's quite overdue but here I am. Sorry I've just been so busy since I got back from the south coast that I've hardly had a chance to breath, let alone blog!
So Ange and my holiday was pretty spiffy. Except it rained the whole time, except for Wednesday when we were leaving! Compare these two photos, both the same place, just 24 hours apart (in the absense of my gallery (its broke) I'll have to post them all here, sorry):
Tuesday:

Wed:

Also I don't think high tide is very high, Ange made this on Tuesday:

And on Wed:

Other photos:
But all in all its a good excuse to get away and we both needed it. Ange more than me though!
In other news, I've written three 3000 word essays this week, so I'm buggered from that, and I finally got around to installing Vista RC1 for x64. And I must say, I'm quite impressed. Not as impressive as the x32 I hear, but the x64 is a lot harder to do. And it's spiffy and I've been using it for three days now as my primary OS and I love it. I dont want to sound like a cliche but it really does make working easier. Those live preview windows are awesome. And you can now click on icons in the alt-tab menu (something I've wished for for years). I can't install my soundcard driver because it's not signed. Even when I changed the boot options to allow unsigned drivers it still wouldn't install. So poopies there, I still gotta boot to XP if I want to play games.
Other than that I think thats about all I got to write atm. Ciao!
Filed under: General - Mark @ 8:35 am
Some of you may have heard that Germain Greer has said that Steve Irwin's death was "Nature's way of catching up with him", claming he was cruel to animals, etc. What a fuck. Anyway, Australian politians have finally responded in a good Australian manner, with Ashfield council saying they wished they could ban her from entering their municipal, the queensland governmnent wishing to triple the tax on her large properties, and other similar outraged responses. I love it. Stupid bra-burning lesibans.
Filed under: General - Mark @ 12:28 pm
Woohoo, until next week I finally have no more work to do! The past four days I've been working flat out on uni work, and having to go to work too, but tonight – its all finished and I have a day off work! Woohoo!
Filed under: General - Mark @ 2:10 pm
Man my neck hurts. My hands hurt. I'm covered in small nicks. Yes, I've been working on my car again 4 hours in the heat crawling around under the dashboard 😛 I installed a GPS Antenna and wired it into the center console, along with a charger unit for the GPS so that its all nicely hidden away. And I tell ya what, having an antenna for the GPS is worth every one of those $15 – reception time goes from 2-3 minutes to about 10 seconds. Awesome.
I would have been done in a lot less than 4 hours but I managed to disconnect every single wire from my hands free kit, and it took a long time to figure out how they all go back in 🙁 But still, its all done now!