Filed under: General - Mark @ 8:05 am
From http://www.shoutwire.com/viewstory/46030/Watch_Out_For_Hot_Naked_Girls_
These days thieves are becoming so sophisticated that their creativity spreads fear. Some of them have already designed special electronic scanners that can break car alarm codes; others have used cranes to drag away vehicles. But the most impressive theft took place in Moscow not very long ago. The crime was performed with such eloquence that even the victims themselves could not help expressing their admiration, Moskovskiy Komsomolets reports.

Here is how the stealing was performed – one hot afternoon the Balashikh beach on the Moscow-River shore received special visitors: three extremely attractive girls in an SUV. They got out of the car, approached the water and… took off all their clothes. Then the hotties began splashing near the shore, laughing and capturing everyone's attention.

On top of that the witnesses claimed that the girls even gave a minor lesbian show and started playfully washing each other, which was met with high approval and wild excitement by the male observers.

While these naked women with sexy bodies gathered around themselves a crowd of admirers, a group of thieves approached the fans' abandoned cars. Within some fifteen minutes ten cars were robbed clean and four very expensive ones were stolen! As for the three nymphs, after completing their show they quickly got into their car and disappeared in some unknown direction.

Currently both the cars and the performers are being sought by the police. However, the investigators say that it would be very hard to prove the girls' fault. After all, they were simply bathing…
Awesome 😉
Filed under: General - Mark @ 7:48 am
The last few days in Adelaide have been really nice. The weather wasn't that great, and Adelaide certainly isn't the most exciting place on earth, but it was great to see Granddad for a while. It's been years since I saw him last.
So yes, I'm back home now. Fortunatly nobody robbed the place, which is always a bonus.
Oh, I got a job! I got a call on the 23rd from my new employer to advise that he will be offering me the job officially when I get back to work. It's at the same place I am now, but working for someone else in a completely different capacity. I'll be their (I think this is the official role) Information Systems Support and Development person. Or something. Basically I'll be working with the database guy to maintain and expand our (already massive) database and reporting systems. It doesn't start until mid-february, so I am SO quitting my current job before then so that I do NOT have to deal with shit when school comes back. So I think I'll quit last week of Jan and then take a holiday with Angela. Nice.
Filed under: General - Mark @ 5:24 pm
… I'm in Adelaide until the 27th, so don't expect much for me till then.
Happy Christmas!
Filed under: General - Mark @ 8:21 am
I know it's silly to blog about dreams, but I had the most vivid dream last night, and boy was I pissed off when it ended. I dreamed that Jeremy Clarkson from Top Gear rolled my Commodore during a show they were filming in Australia, so as compensation they gave me one of the cars they had left over after the shoot, which was as Aston Martin DB9. It was so vividly real I was stoked.
Needless to say my commodore is still sitting out the front, rather wet after the rain last night. So much for washing it yesterday.
Filed under: General - Mark @ 10:49 am
Well, I just said goodbye to my Opterons for more than a month. The motherboard developed a fault with the IDE controller, requiring me to have the primary IDE disabled to get it to POST, and occasionally it wouldn't boot at all. So it's gone back to Tyan (again) but because it's Christmas it won't be back until at LEAST the 22nd of January. This sucks, but I still have my Toshiba laptop (which I'm using now), so it's not all lost… It's just a 5x drop in processing power, thats all.
Filed under: General - Mark @ 12:09 pm
I went to download a huuugely popular application today from what I thought were respected developers. It would appear I was wrong: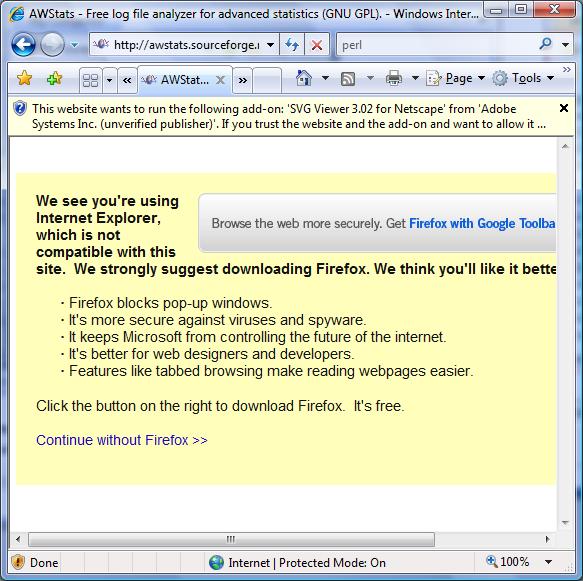 This fucking annoys me. I don't want to use firefox. I'm quite happy with IE. And honestly, what kind of self respecting developer decides to only make a website compatible for what is, quite frankly, the minority of users on the internet? Secondly, the page rendered perfectly, there was nothing wrong with it. Thirdly, why is it that every time that page loads, it wants to download a different ActiveX control? Is this some kind of a joke?
Seriously you people, get your fucking heads screwed on straight. You're not cool.
Not only that, but look at their reasons for moving to FF:
– It blocks popups. Umm, so does IE. Old news people.
– It's more secure. Possibly, for dumb stupid users, but for people who know what they're doing ont he net it's no better
– It keeps microsoft from controlling the future. How fucking stupid are you?! Anyhow, Id rather have microsoft control the internet because at least they don't attempt to guilt trip innocent visitors.
– It's better for web designers. I DON'T CARE! I do plenty of web design and I make my sites look fine in both! The internet is not here to please designers. It's here to please visitors. You don't make your doorways small so that fat people can't get through, just because it's easier to make a small door than a large door, do you? No! You let everyone in! Do your fucking jobs right and it won't be a problem.
– It has tabbed browsing. Oohh… and umm.. WHAT THE FUCK IS THIS?
Filed under: General - Mark @ 8:14 pm
And, to top off what is rather a good day…
TOP GEAR IS BACK AS OF 28th JANUARY!! I shall be downloading the SECOND it hits the internet.
Filed under: General - Mark @ 2:13 pm
I know, I'm a week late, but I went to see the new Bond movie, Casino Royale. It was fucking awesome. I love it. Absolutally love it. The last scene has me tingling all over, and impatient for the next movie (due 2008). Arrrhhh……….
I am going to see that again. Not right now, but I AM going to see it again. I must. Damn….
Filed under: General - Mark @ 3:52 pm
How come all blogs and forums seem to be dead? Its annoying. I need something to kill my time with, and nobody's writing anything. Poopies.
Filed under: General - Mark @ 8:18 pm
My Uni results are in:
Ethics: Pass
Virtual Organisations: Distinction
I.T. Project: Distinction
Web Design: Distinction
I'm actually not too happy with them. Ethics I worked really hard at, and only got a pass. Web Design I should have got a High Distinction, as I was coming first in the whole class – but only by 1%, so the other guy must have done just a bit better than me in the exam, and there's only room for one HD in each subject. I am very surprised by Virtual Organisations, everyone else must have just sucked. And I.T. Project, well Im happy with a distinction, but if I managed to get that, then that means I could have got the HD if I'd just stuck to the freaking style guide (I lost points because I didn't format my final report in the way he wanted). Grrr.
Filed under: General - Mark @ 12:48 pm
I just got a letter from the ABC to say that I didn't even get on the shortlist for their graduate positions. Oh well. I have one last shining star left, which I have my interview for today. If I don't get this one, then it's back to applying for every job I see on seek 😉
Filed under: General - Mark @ 6:08 pm
I have my big interview for the database job tomorrow. When I say 'big' I really mean 'customary' because the guy who is offering me the position is giving me all the help he can. He helped me get a demo license for the software, told me what he's going to ask about, explained how the system works, got me training videos, etc. So I'm feeling rather confident.
Mmmm I can't WAIT to get out of technical support. It's driving me insane and I'm getting itchy feet. Like really itchy.
Filed under: General - Mark @ 6:54 am
It would seem that if you want to download stuff (i.e. torrents), Sunday Morning is the best time to do it. Australians are known for their shitty bandwidth, however I scores 500kbps off JUST Aussie seeders (it was an aussie show that people in other countries wouldn't get):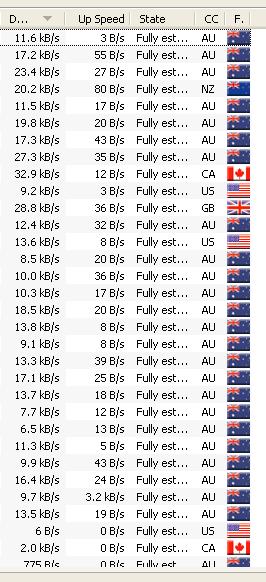 All that speed from all these people donating their sleepy sunday morning bandwidth. I tried to download this during the week and got about 10kbps. I like this one better.
I'll blog about the rest of my weekend later.
Filed under: General - Mark @ 8:13 am
Well, it looks like I might have landed myself as a database admin. We have a huge database at work, and one guy created it, implemented it and maintains it. And work has realised that because it all comes down to one man, what happens if he is (god forbid) hit by a bus or dropps of the perch. We'd be up the creek without a paddle.
So they've requested that he place an understudy with him in our office. He's only on contract and he has his other clients (albeit we are by far his biggest), but it most certainly looks like I'll get the job of being the primary contact for work, and I'll have to learn the database inside out. Which is exactly the kind of work I've been trained to do, so I'm glad that I'll get to use my official training.
So, assuming I get the job and assuming that my company accepts the proposal to place me as the database guy, then it looks like come 2007 I'll have a decent job. Yippee.