Filed under: General - Mark @ 8:11 am
I knew it! According to the NRMA there's over 250 accidents per MONTH due to people not being able to merge for shit. A list of the sites that I travel regularly (number in brackets are the number of incidents each year):
1) PARRAMATTA RD and CHURCH ST/M4/WOODVILLE RD (107)
2) EPPING RD and LANE COVE RD NORTH RYDE (98)
7) PACIFIC HWY and RYDE RD PYMBLE (77)
36) LANE COVE RD and WATERLOO RD NORTH RYDE (43)
41) PARRAMATTA RD and SILVERWATER RD AUBURN (40)
44) DEVLIN RD and VICTORIA RD RYDE (38)
49) CONCORD RD and PARRAMATTA RD STRATHFIELD (37)
50) M4 and PARRAMATTA RD STRATHFIELD (37)
74) EPPING RD and HERRING RD NORTH RYDE (30)
89) LADY GAME DR and RYDE RD WEST PYMBLE (27)
Every single one of those roads (thats 10 of the top 100) I drive past/on/through on an almost daily basis. The ones in bold are on my direct route to work. No wonder it takes so freaking long for me to get there on some days. Damnit people, learn to fucking drive properly.
Filed under: General - Mark @ 7:04 pm
Kris has very kindly given me permanant loan of four nVidia Quadro video cards. I bunged three of them into my home PC (along with my standard video card), to give a total of 8 heads: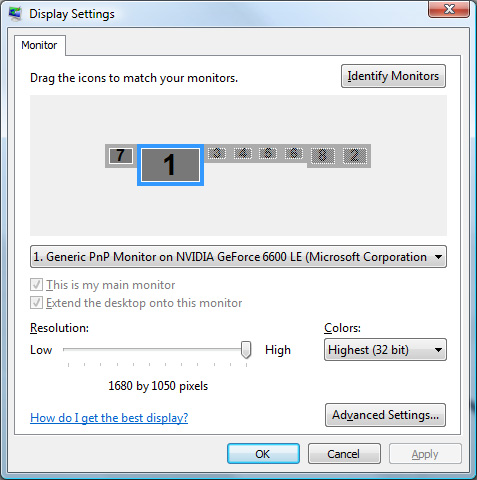 I'll be taking all four to work tomorrow to bung in our monitoring station which already has three monitors attached to it, for a grand total of (da dummm) 11 heads. Awesome.
Filed under: General - Mark @ 5:04 pm
The worst thing about being sick, in my opinion, and I don't know if this happens to any of you, its the crazy dreams during the height of the fever, or when the fever breaks. I knew it was coming last night, and they were just as mad as ever. I can't really explain it, but my dreams are like trying to fit square pegs through round holes.
Gah, I know I can't put it into words, but I hate it. I don't know if it happens to anyone else though…
Filed under: General - Mark @ 5:17 pm
Man I have a cold, which I think is turning into the flu. Thats twice this year. It's fucking gay. And we're just days away from spring. It's not fair.
Filed under: General - Mark @ 6:09 pm
Today I spoke to Dad (whilst Mum was eavesdropping) about marrying Angela. Dad said that he'd decided a long time ago that he approved of Angela, which means a lot to me. I'm sure it means a lot to Angela too.
I've decided how I want to do it too. But (for duh obvious reaons) I'm not going to tell you here. You can know after the event. I ran it past Mum and Dad (after Mum had been invited in after her eavesdropping was just too obvious and she had done the requisite denial of listening) and they reckon it's a wonderful idea.
So, only one thing left to do. And that's to do it.
Filed under: General - Mark @ 10:28 pm
Get this for a headline on ninemsn: "Wiggles Perform Live" (I can't find the permalink to the article else I'd link it for proof. It's an AJAX page – ok!?). So uuhhhhh… No shit? Thats how they make their insane millions? Its kinda what they do for a living! Thats like saying:
"Accountant does some sums!"
"Bass player plays some bass!"
"Phil Collins hit the drums!"
"Rock singer does drugs!"
"Paris Hilton fucks some guy on camera"
"Mark is totally awesome!"
Its kinda what we do. It's as bad as Today Tonight, ACA, or in fact any news on any commercial channel (not that SBS or ABC are that much better if we're being honest).
Filed under: General - Mark @ 8:01 am
La di da, man I need some good websites to visit in the mornings. I have five or so websites I visit and read every morning but they don't last for long enough. Normally there's people online to talk to, but not this morning.
Merrick and Rosso are teasing an American woman who's scared of Australian spiders that spiders can lay eggs in your face and they look like a pimple and when you squeeze is baby spiders come out. That's as good as freakin Drop Bears!
Filed under: General - Mark @ 8:07 am
Well, I watched the first five episodes of Californication last night. In the first two episodes I counted about 7 nekkid ladies about 5 full frontal sex scenes. And the first two episodes weren't even that good. The later episodes, 4 and 5 particularly, were much better (and irony being I think there was about one nekkid lady in both episodes and no full frontal sex). But it's nothing new, and probably not really worth staying up late to watch.
In other news, Series 2 of The IT Crowd is just as good as the first one. I've only seen the first two (of four) episodes and it's pretty cool. They killed off one of the characters that shitted me bad, and brought back another character that didn't appear much in the first series. All in all, good stuff.
In other news, I found an awesome back-street long-cut that's actually a short-cut during heavy traffic to and from work. So if the traffic looks horrible, I now know a way around a lot of it. Awesome. I love finding little shortcuts like that that nobody else takes 🙂 That and I fuckin hate sitting in traffic, so even if it only saves 5 minutes in my book its worth it because thats 5 minutes of my life I'm not spending sitting in traffic.
Filed under: General - Mark @ 6:55 pm
I've downloaded the first few episodes of Channel 10's new import, Californication. I've heard a lot about it, and about how dirty and foul and sexual it is. Honestly, sounds like a thoroughly entertaining show. So let's see how it goes.
Also, Ange got me to download the pilot episode of Channel 7's new import, Bionic Woman. Kind of like Six Million Dollar Man, but I guess Fifty Million Dollar Woman wasn't a very catchy title. It was alright, the girl was pretty hot, and it seemed like it might not be too bad, but we'll see what the rest of the series is like when it comes online.
Filed under: General - Mark @ 7:59 am
Ange and I just spent the whole weekend re-watching the FireFly DVDs. Well, I was re-watching them, Ange was watching them for the first time.
They're still just as awesome as when I first watched them, and I'm still mad at Fox for cancelling them. Fox have a real reputation for cancelling awesome shows. Perhaps they should learn from their mistakes – if they plan on cancelling a show, let it run out its series and see how it does. Because it seems every time they cancel something it becomes super popular (aka Family Guy). So if they let it run its season after cancelling it they can then put it back on next season without any egg on their faces.
Anyway, now I have to watch the Serenity movie just to complete the trip. And I'm still a bit peeved that nowhere, not even on the intermanet, is any proper explanation about Shephard Book.
Filed under: General - Mark @ 8:18 am
Merrick and Rosso are having a porn star called Echo Valley (sounds ominous) on their show tomorrow. Never heard of her, so I did a quick google. Apparently she's spent $64,000 on boob jobs. If you're brave, click the MORE link. There's no nudity – so it's child safe, except if you're scared by ugly trolls.
Filed under: General - Mark @ 4:47 pm
This is the reason why most movements (particularly ones in Australia, particularly political ones) never get anything achieved.