Filed under: General - Mark @ 7:42 pm
What I would really love to do, when we get our own place and I can do this stuff, is somehow transmit the video & audio from my HTPC to other TVs and rooms in the house.
Back in the old days of analogue tv, this was easy. You could get analogue signal injectors everywhere – you just tune your TV to say, Channel 45 or something and you could pick up your signal, because it would be broadcast over your coax cable.
With digital TV however, there doesn't seem to be anything even remotely like this. Maybe the technology is too complex, or expensive, for consumers to bother – and you need a degree to handle the corporate stuff. I figured that hotel chains will need to jump on this bandwagon so that they can inject their own channels into the terrestrial systems, however I realise that most of them simply relay cable TV.
So. This website, http://www.audioauthority.com/ has pages and pages of cool stuff. Really cool stuff, in my opinion. But it's looking like what I'll have to do is to just run component, or HDMI, or whatever, connections out at each location there'll be a TV and connect it through an AV channel. Not exactly terrible, but I would have preferred just being able to switch to another TV channel.
Still, by the time I get around to actually being able to do this (might be in less than a year's time, but we'll see), things might have changed and these DTV injector products might be on the market.
Unless anyone knows of any that are around now? Leave a comment if you do.
Filed under: General - Mark @ 7:25 pm
What a busy weekend.
Friday saw Ange and I fly to Melbourne for Louise's pending nuptulals. We stayed with Rennie, Ange's cousin, in near the city. She was lovely and was our personal taxi driver for the weekend!
Louise's wedding was really nice. It was an Anglican service at her fiance's church. His kids are so cute (I checked to see if that makes me a step-uncle, apparently not. Talking to other people with step brothers/sisters leads me to believe that the step-relationship stops with parents and siblings)! It was followed by a coctail reception in the church afterwards.
There was a bit of stressing by Mum over the reception beforehand, but I honestly don't know what about. It was really nice. The food was nice (very exotic for us, it was prepared and served by some asylum seeker/refugee organisation), the atmosphere was relaxed and enjoyable – and they had icream with sprinkles and glowsticks! I know that sounds a bit funny written down, but you had to be there (I got some mad photos of it on Dads camera, but I don't have copies of them).
In other wedding news, we got our traditional block-mounted album from the photographer today, along with more than 4gb of original high-resolution photos. It came out beautifully – as good as we could ever have hoped!
Filed under: General - Mark @ 12:59 pm
Buying 8Gb of ram was stupid. What the hell am I going to do with it all?
Last night I built three Virtual Machines in VMWare to replicate a real-life network that I manage (so that I can practice changes there before applying them to the live site). I assigned accurate amounts of RAM and processors to each one (3gb, 2gb and 2gb). This brought memory utilisation up to about 60%. And I don't really need to power up that scenario very often anyway.
Oh well. Maybe I should make a RAM disk or something and install GTA-4 onto it…
Filed under: General - Mark @ 7:34 am
Well, after months and months of bickering with Tyan and getting nowhere with their useless, hopeless, and downright unbelievable distributor Digicor, I've bit the bullett and spent my K.Rudd money on a new PC (that didn't take long, I hear you saying).
For the first time ever, I've gone with Intel. Quad Core 2.8Ghz (Q9550), 8Gb RAM (yes, 8Gb), a Gigabyte motherboard with too many letters to remember off the top of my head (it has 3x PCI-e x16, 3x PCI-e x1, 1x normal PCI), 6x SATA RAID, and all the other standard goodies that come with middle-range motherboards these days.
And I've got to say, I'm not exactly blown away by it just yet. My dual Opterons were pretty damn fast, and this doesn't seem to be that much faster. But I guess we'll see what happens when I get a new graphics card (I was $100 short, but I found another $100 so I'll pick it up this weekend I think. I'm aiming for a GeForce GTX 260) and start re-loading my Steam games (and GTA-4 for that matter).
Next task – to see if OSX will run on it.
Filed under: General - Mark @ 8:18 am

I can finally get a working computer at home!
Filed under: General - Mark @ 7:44 am
For over two years our relationship has been civil, respecful and mindful. Hell, I've even grown to respect you and your moral decisions.
And last night I don't answer your calls (when I'm on my own time), and you send me unprofessional emails. Cmon. You're better than that.
Filed under: General - Mark @ 7:25 am
2,850km later – we're home! Angela, myself, my brother and his girlfriend drove to Adelaide for Mums 50th birthday.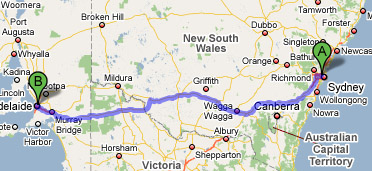 Or, for those who are perhaps not so aquainted with the scale of that map, here's a full-sized version: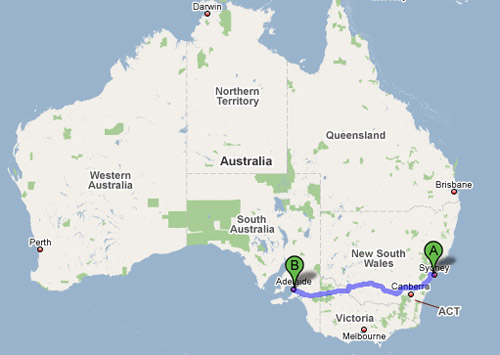 It took 14 hours both ways, which is pretty good time – set the cruise to 120kph at 5am and leave it there till 7pm. The plains from just before Hay to the Adelaide Hills are, well… flat. Very very flat. I wish I had the photos of them here, but they're still on Angela's camera.
Nadine should know the area well enough – we travelled just below Mildura (you can go via Mildura, but it's a longer journey). Anyway, I enjoyed Adelaide but I'm glad to be home.
Filed under: General - Mark @ 7:16 am
I recently installed Smoothwall for the first time yesterday – it will become the firewall at the church office when they get their new server (thats a story for another day).
They have a heartwarming statistics page on their site – shows the types of processors and ram etc that their users are using.
Top 5 processors are all Pentium 3, Pentium 2 or Celeron processors. Top three ram quantities are: 256Mb, 512Mb, 128Mb.
I love to see these old machines still in service, still serving a useful purpose. I'm running it on a Celeron 2.4 with 120gb drive and 1gb ram (which is SO overkill, but its all just junk I had lying around anyway). It's even nice to see my old components going to a good home.