Filed under: General - Mark @ 8:44 am
Well, I woke up on Wednesday without a hangover. That was nice.
The block BBQ was really nice. Had a great time. About a dozen people turned up (which is a good effort as there's only 10 apartments, so that's about half of the people living here), we sank a few beers, had a BBQ and a chat. Went from 4 till about 8, which is just the right amount of time I think.
My cheque from the NRMA still hasn't arrived. It better arrive today, because if it arrives on Friday, I won't have time to bank it until Saturday, and Saturday is the day I'm hoping to pick up my car. So that doesn't quite work. It's really really starting to give me the shits. I wonder if something like this will happen next time I go to buy a car.
Filed under: General - Mark @ 6:55 am
It's Australia Day, I'm stuck at home cos I don't have a car, Angela is at work till 4, and I've got nothing to do.
There's a building BBQ at 4, thankfully, so I won't be alone all day. But I was invited to another BBQ lunch which I've had to forego because I can't get there 🙁
Filed under: General - Mark @ 7:13 am
Well, I was meant to pick up my new car on Saturday, but it didn't happen.
Why? Because the NRMA sent my settlement cheque to the completely wrong address. Which means that they have to put a stop on the cheque, and only once that's been confirmed will they send out a new one. And because it's a public holiday ('stralia day) tomorrow I might not get the cheque until this friday, and that's bullshit because it means it won't have cleared by this weekend which means waiting even LONGER. Graaahhhhh.
Filed under: General - Mark @ 7:10 am
I'm not one to mess around. If I want to do something, or I need to do it, I generally go out and just get it done.
After keeping an eye on Pickles for the last few weeks, there's been nothing particularly appealing come onto their market in my price range for replacing my car. There were two VY Executives, but they had high k's and high(er) prices. There's a crapload of Falcons for private sale, but after driving my hirecar for a week I'm just not sure I'm willing to accept that massive fuel consumption. And they almost ALL have the shitty 4-speed auto, nobody seemed to option the 5-speed, and the 6-speed ZF box's are all $10k out of my price range.
So, after a suggestion from Dad, I went looking for Mitsubishi Verada's. We had one 10 years ago and it was a great car. We went to the NT in it, towing at that, and it had a huge back seat and a big boot.
In 2002-2005, they did all wheel drive (AWD) version of the car. It has the same 4WD setup as a Mitsubishi Evo (and that's about where the similarity ends), which means that it's a 50:50 split between front/rear power. Same engine, same interior, some outstanding Mitsubishi quality. 154kw, big boot, smooooooth Fuzzy Logic gearbox (which means that when you want to drive like a maniac, it knows, and adjusts its gearchanges to suit). (much) better fuel economy than the falcons and commodores too.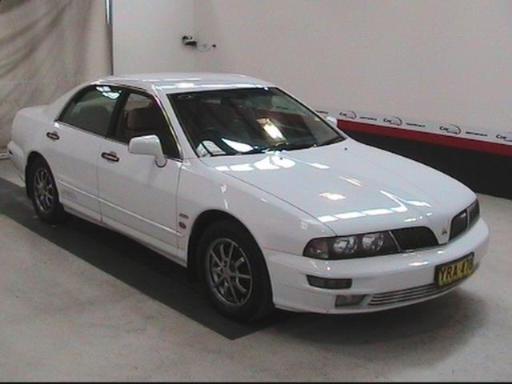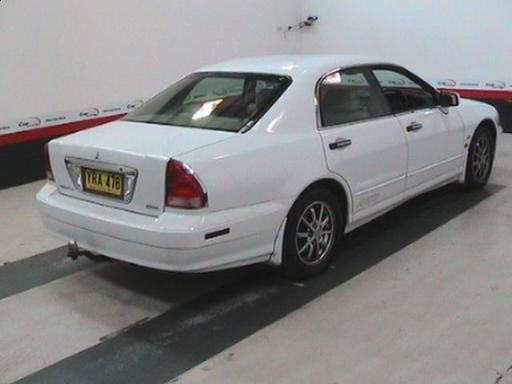 These are just the photos from the website I bought it from. It was a car due to go to Auction on Wednesday, but these guys seem to offer a fixed price on almost all their vehicles for private buyers.
It's in average condition. 140k's, bodywork is straight, but a few scratches which should buff out. No service history, but according to the sticker it had a new timing belt 12 months ago. It's in desperate need of a service, and the inside needs a good detail. The drivers-side window sticks, the boot release doesn't work, and the dashboard is showing an error code (I think that's just because they replaced the battery and it's missing its security codes). Now all that makes it sound a bit dodgey, but the fact is it's all covered under warranty.
By the time I pick the car up next weekend, all those problems will have been fixed, the car will have been detailed and polished. And for the price I was looking at, beggars can't be choosers. It came in for almost the exact same amount as the cheque I'm receiving from the NRMA so I struck it lucky too.
Here's to hoping that the 4WD system doesn't blow up in my face and that it's not a lemon!
Filed under: General - Mark @ 12:03 pm
Don't ever write your car off. It's too much work. Calling the insurance company, call the police, call the insurance company back, speak to the assessor, argue about your entitlements, visit a shed in the middle of nowhere on a hot hot day, tremble with fear every time you go out in your hire car incase you crash it, searching for a new car, dealing with slimey car dealers, BLAH
Filed under: General - Mark @ 9:19 am
I remember the day I first picked it up. It was a difficult birth. The RTA screwed up the blue slip, which delayed its registration by 3 weeks, and because it had no plates I was accused of stealing shit the very first day I got it. And the because of that, the security guards at Liberty Grove knew who I was and thus I didn't even get a SINGLE DAY of illegal parking leeway.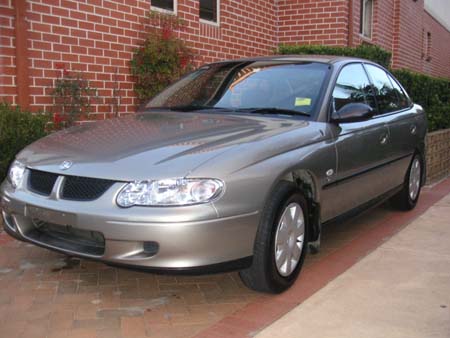 But since that day, we shared almost 100,000km of travels. Noosa, Evans Head, Melbourne dozens of time, Adelaide, all over north and south NSW. Lots of great memories in that car. It was sturdy and faithful. It NEVER broke down, not ONCE. It purred when you gave it a service, and got grumpy when you didn't. It had its faults (dual-mass flywheel anyone?) but we worked through them together.
And yet, no more. At about 3 o'clock this morning, my faithful steed was killed.
A drunk driver fell asleep at the wheel and planted himself squarely into the back of my car. Not just the back though, the back on the side. A rear shunt would have been recoverable, but now the rear suspension is snapped, the diff is broken, one wheel points to the sky, the other wheel is pointing sideways and is cracked all the way through, the chassis is clearly skewed, the boot is sealed shut, the inside portal is squeezed shut, and only the passengers door opens (because of the twisted chassis).
It hurt my heart to see him on the back of that truck.
R.I.P. my friend
29/6/2005 – 07/01/2009
Filed under: General - Mark @ 8:10 am
Have you seen that saying on the back of a lot of trucks? It's absolutally true. Trucks are the backbone to the Australian economy.
Which is why it angers me that today the Rail union has said that they want to get petrol tankers off the road. How should petrol be transported? By train, of course.
This is absurd. Absolutally rediculous. How do you plan on getting petrol to places that DONT HAVE train access, hey? That is, most of the country. Freight trains between Adelaide and Darwin (well, Alice Springs and Darwin) only opened in 2004. Would they have said the same thing before then? And unless the petrol station is within pumping distance of a train depot, you're going to have to truck it somewhere. And if you're trucking it somewhere, you may as well truck it everywhere.
If it were possible to do this, we wouldn't have massive road-trains transporting cattle, or any long-distance haulers at all. Which might be great in an ideal world, but if we could do it, it would probably already be being done. And do you think that 5 trips a week is going to be enough to keep everywhere inbetween supplied? Give me a break.
It's shameless oppertunisim, probably thought up by some marketing departement, and a grab for more income for them. Shame on them for attempting to cash in on recent petrol tanker tragedies.
Now, I'm not a trucker, never have been, nobody in my family is, none of my friends are, and I haven't lived in a rural area for 15 years (that's scary). But even I can see that this is a stupid idea.