Filed under: General - Mark @ 9:19 am
I remember the day I first picked it up. It was a difficult birth. The RTA screwed up the blue slip, which delayed its registration by 3 weeks, and because it had no plates I was accused of stealing shit the very first day I got it. And the because of that, the security guards at Liberty Grove knew who I was and thus I didn't even get a SINGLE DAY of illegal parking leeway.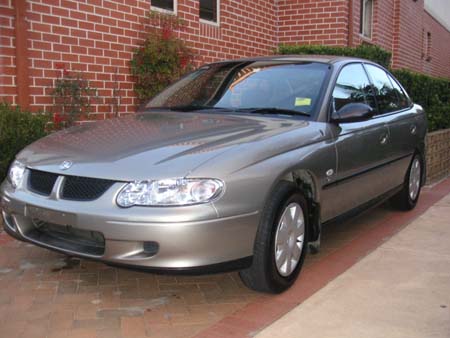 But since that day, we shared almost 100,000km of travels. Noosa, Evans Head, Melbourne dozens of time, Adelaide, all over north and south NSW. Lots of great memories in that car. It was sturdy and faithful. It NEVER broke down, not ONCE. It purred when you gave it a service, and got grumpy when you didn't. It had its faults (dual-mass flywheel anyone?) but we worked through them together.
And yet, no more. At about 3 o'clock this morning, my faithful steed was killed.
A drunk driver fell asleep at the wheel and planted himself squarely into the back of my car. Not just the back though, the back on the side. A rear shunt would have been recoverable, but now the rear suspension is snapped, the diff is broken, one wheel points to the sky, the other wheel is pointing sideways and is cracked all the way through, the chassis is clearly skewed, the boot is sealed shut, the inside portal is squeezed shut, and only the passengers door opens (because of the twisted chassis).
It hurt my heart to see him on the back of that truck.
R.I.P. my friend
29/6/2005 – 07/01/2009
No Comments »
No comments yet.
RSS feed for comments on this post. TrackBack URI
Leave a comment