Filed under: General - Mark @ 7:10 am
I'm not one to mess around. If I want to do something, or I need to do it, I generally go out and just get it done.
After keeping an eye on Pickles for the last few weeks, there's been nothing particularly appealing come onto their market in my price range for replacing my car. There were two VY Executives, but they had high k's and high(er) prices. There's a crapload of Falcons for private sale, but after driving my hirecar for a week I'm just not sure I'm willing to accept that massive fuel consumption. And they almost ALL have the shitty 4-speed auto, nobody seemed to option the 5-speed, and the 6-speed ZF box's are all $10k out of my price range.
So, after a suggestion from Dad, I went looking for Mitsubishi Verada's. We had one 10 years ago and it was a great car. We went to the NT in it, towing at that, and it had a huge back seat and a big boot.
In 2002-2005, they did all wheel drive (AWD) version of the car. It has the same 4WD setup as a Mitsubishi Evo (and that's about where the similarity ends), which means that it's a 50:50 split between front/rear power. Same engine, same interior, some outstanding Mitsubishi quality. 154kw, big boot, smooooooth Fuzzy Logic gearbox (which means that when you want to drive like a maniac, it knows, and adjusts its gearchanges to suit). (much) better fuel economy than the falcons and commodores too.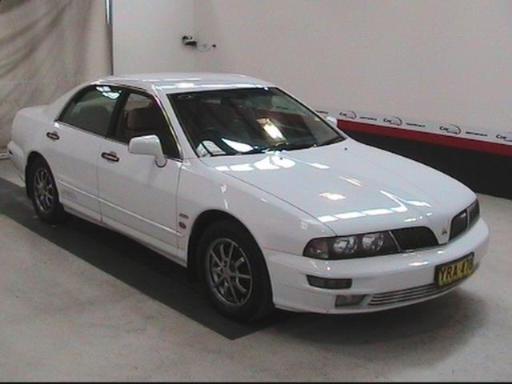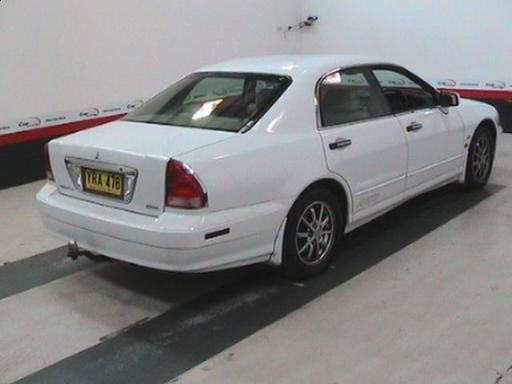 These are just the photos from the website I bought it from. It was a car due to go to Auction on Wednesday, but these guys seem to offer a fixed price on almost all their vehicles for private buyers.
It's in average condition. 140k's, bodywork is straight, but a few scratches which should buff out. No service history, but according to the sticker it had a new timing belt 12 months ago. It's in desperate need of a service, and the inside needs a good detail. The drivers-side window sticks, the boot release doesn't work, and the dashboard is showing an error code (I think that's just because they replaced the battery and it's missing its security codes). Now all that makes it sound a bit dodgey, but the fact is it's all covered under warranty.
By the time I pick the car up next weekend, all those problems will have been fixed, the car will have been detailed and polished. And for the price I was looking at, beggars can't be choosers. It came in for almost the exact same amount as the cheque I'm receiving from the NRMA so I struck it lucky too.
Here's to hoping that the 4WD system doesn't blow up in my face and that it's not a lemon!
No Comments »
No comments yet.
RSS feed for comments on this post. TrackBack URI
Leave a comment