XMLer
What is XMLer
XMLer is a WordPress plugin that provides you with an XML/RSS display from other people's webpages. Much like a LiveJournal 'Friends' page so you can view your friends posts without having to visit their sites.
It is fully customisable and can be modified to sit in a page by itself, or be embedded into a sidebar. It contains full cusomisable formatting and a semi-powerful configuration interface. See screenshots
It is really just an adaption of the very popular MagpieRSS feeder, which is included in the package in its entirety
Current version
The current version of XMLer is 0.3.
Download
XMLer comes in two packages - a standalone installation and an upgrade. The standalone installation includes the XMLer script as well as MagpieRSS. The upgrade installation ONLY includes the XMLer script as Magpie RSS is developed completely independantly of this plugin.
Download Upgrade Package (from v0.1 to latest)
Installation Instructions
Download the complete package using the link above
Extract and FTP the xmler folder to wp-content/plugins in your wordpress folder
Browse to wp-content/plugins and chmod the 'cache' folder to 777. Most FTP clients support this function
Log into your WordPress dashboard, and go to 'plugins', then click 'activate' next to 'XMLer'
Click on the 'XMLer Configuration' tab that now appears under 'plugins'.
Set all your settings appropriately. Double check the cache folder as XMLer will NOT operate unless this is 100%
Operating Instructions
The configurations page is pretty straight forward however I may still document it more later on.
To display the XMLer output on your page: you have two (2) options.
Place the tag <?php xmler_display() ?> in your PHP source code
Create a new 'page' in Wordpress and put the text XMLer_Show in it (case sensitive)
Screenshots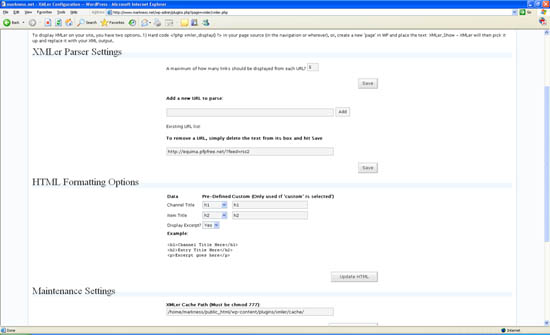 Configuration Screen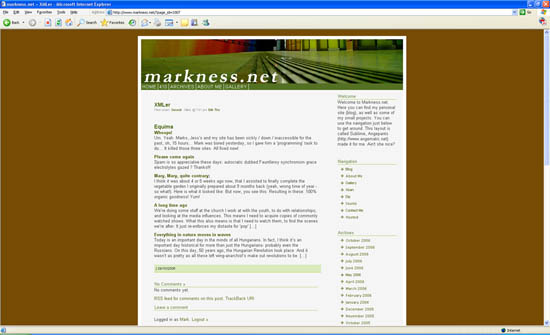 Demonstration Page